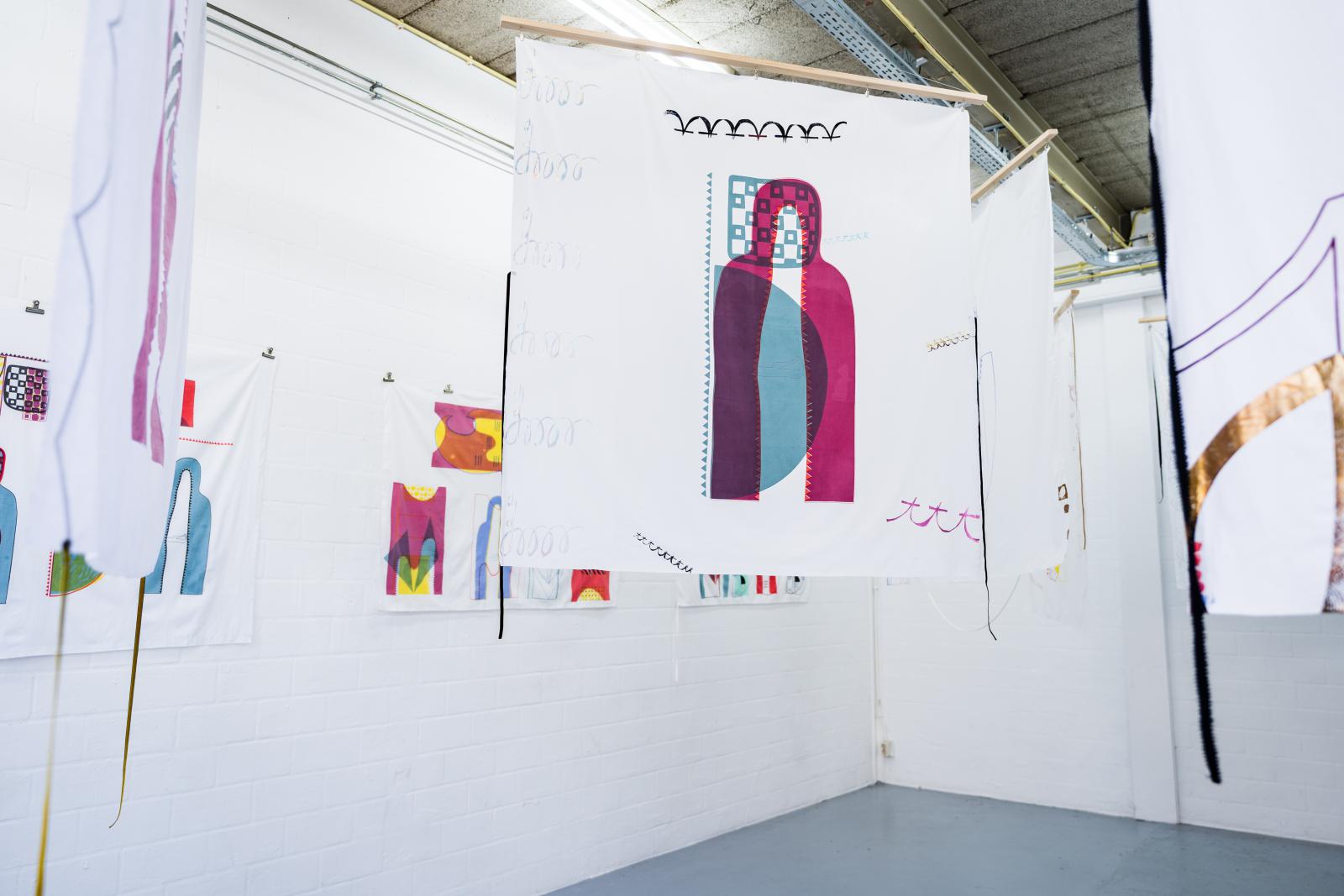 Signature Selfie Volume 1: A-G, M, V.
The NYC-based artist started the series of hand-printed textiles in Amsterdam's AGALab in the Summer of 2021 as part of their AIR program and completed the work in New York. It is returning to Amsterdam for the first time at De Bouwput.
Signature Selfie explores how the symbols, signs, and visual markings we wear affect the perception of ourselves.
A series of medium and large-scale hand-printed textiles inspired by Wiener Werkstatte's use of monograms as personal logos and the uniquely personal and abstract nature of handwriting and handwritten signatures. These prints hover between abstraction and figuration and invite the viewer to question the ubiquity and purpose of personal branding.
Each piece comprises silk-screen printed geometric and organic shapes that form the letters in a monogram. On the fabric's selvage, heat-pressed markings resemble handwriting exercises on the edges of a page. These suggest something that continues outside the picture plane, like a bolt of printed fabric with its continuous patterns or pages of a notebook full of scribbles and doodles.
Various added elements that nod to the tradition of garment making (straps, hems, and finishes) make it unclear if these textiles are supposed to be draped on a body or hung to be displayed.
We also see the creation process of these monograms in more detail, resembling the repetition in writing exercises interpreted as the constant search for different ways of presenting oneself—our diverse identities.
Mariana Vidal Escabi (b.1977, San Juan, Puerto Rico) earned a BA from Universidad de Bogotá Jorge Tadeo Lozano in Bogotá, Colombia, and an MFA in Fashion Design and Textile Design from Academy of Art University in San Francisco, CA. The artist has participated in exhibitions at "Printed Matter's Art Book Fair" at MoMA PS1, New York, in 2018 and 2019; "Every Woman Biennial" in New York in 2019; Baxter Street Camera Club, New York in 2019; "Stand Out Prints" at Highpoint Center for Printmaking, Minneapolis, MN in 2018; Fisher Parrish Gallery inaugural show, New York in 2017. Vidal-Escabi had a solo exhibition of her textile work in 2021 in New York City. Her work is part of the library collections at the MoMA and the SFMoMA.
She is Assistant Professor of Fashion Design at Parsons School of Design in New York.
Vidal-Escabi currently lives and works in New York City.