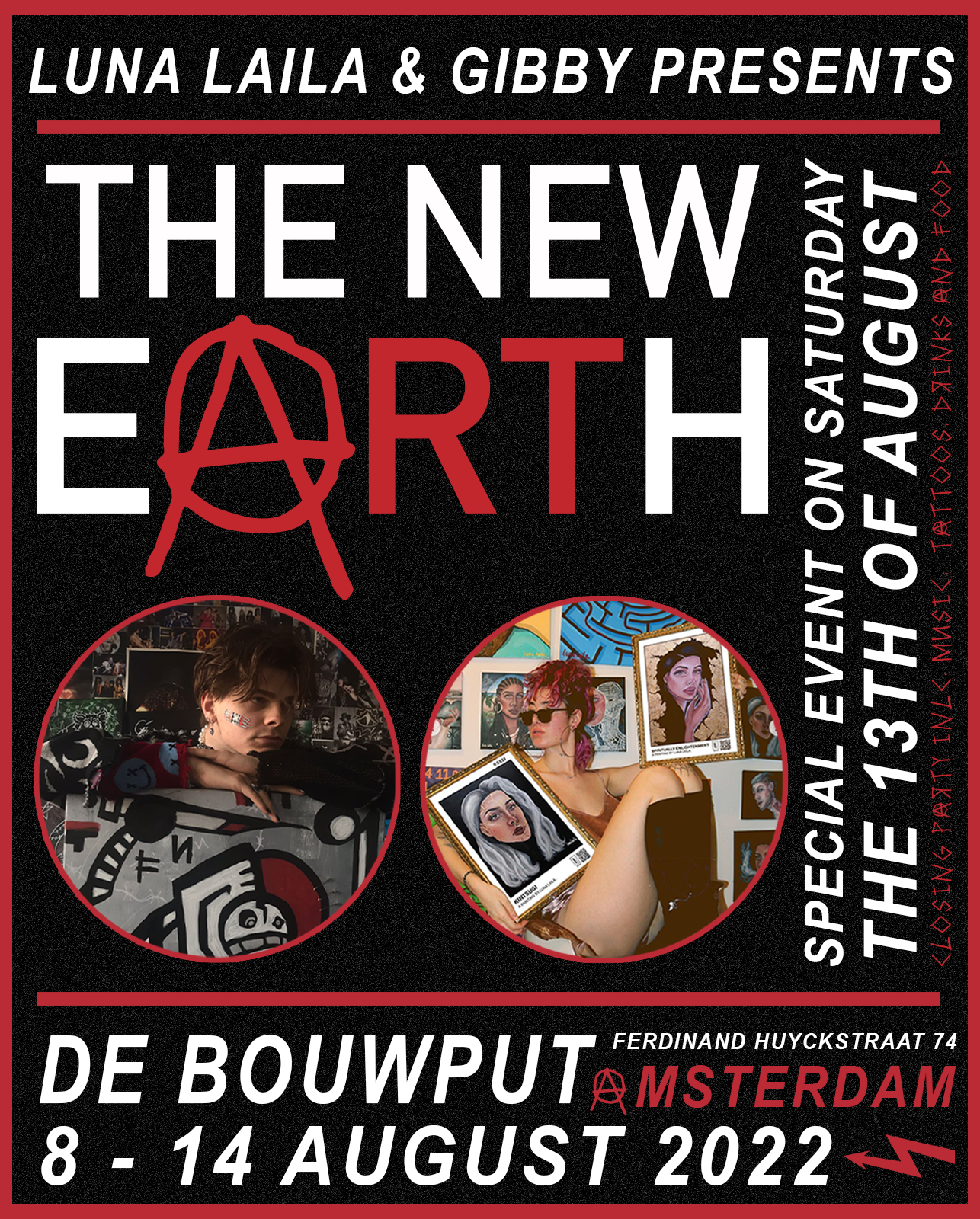 THE NEW EⒶRTH
Gibby & Luna Laila welcome you to THE NEW EⒶRTH.
This exhibition is a celebration of art & connection. What you will be seeing at this exhibition is 2 completely different artists with their own unique styles that have similar influences and topics. 
Gibby (Gabriël Molenaar) is a young Punk driven designer of art, fashion & graphic design. On Halloween 2019 he launched his own alternative clothing brand called HellSire.
With his brand he wants to give more awareness towards mental illnesses due to his mother that passed away. You can expect more of his brand in the future because after this exposition he will start his new study at AMFI.
Besides clothing he also makes paintings, photo's, street art & graphic design work such as: posters, music cover art, video editing, logo's and many more. His inspiration comes from rock culture, social issues, street art, comics, animation and horror.
Luna Laila is a multidisciplinair conscious artist who practices her self expression through visuals as a filmmaker & painter. 
She writes scripts, directs, films and edits for productions such as short films, documentaries, music videos, commercials and more. As a freelance video editor she has worked together with companies like VICE media group, Vans and Eye Film Museum. 
Besides that she is also an autodidact tattoo artist who creates her own designs of her paintings on people's skin. As a painter she uses mediums such as acrylic and watercolour paint to create
paintings in a surrealistic style like (self) portraits, landscapes, nudes and not only on canvases but also paints her ideas on  recycled clothing, shoes, bags and other items to give it a new life. 
Awaken to a higher state of consciousness to go to a place where there is love, unity and harmony. Everyone is welcome to get inspired by our artworks at the exhibition.
Closing party / Luna's B-day on Saturday the 13th of August: 3 PM - 10 PM
Featuring the following music performances:
Sean Luck
Kevin Josias
Romy Dya 
Unruly Phoenix
BUG
Inbranders
Stick N Soof will be there to make some permanent art on your skin. 
Other opening days: 8, 9, 10, 11 and 12 of August: 1 PM - 8 PM